In 2021, website / web app Cost in Tampa is starting at 300$ but you can do it free with some basic skills of WordPress & Woocommerce that gets the job done. You can boost your restaurant orders, get more sales, drive more traffic, get more organic customers, buyers and much more with the power of Website / Web app & SEO, from the same business that you own in offline. Taking your business online is crucial part especially from 2021, you already know why. People can give orders online staying at home and pay with their cards or using any other payment processors like Paypal and they are able to receive their foods right in front of their doors. At riazorsolutions we can provide all kinds of online services you need to run your restaurant online. We do everything from designing to make it live and also provide support & SEO services to rank your website higher than your competitors. We help you to stay at top to boost your online presence and business. If you need any support to build your website or even manage or repair your existing website talk with us. We do our best to support your business at most affordable rates.
How to make your business website for free with woocommerce & wordpress?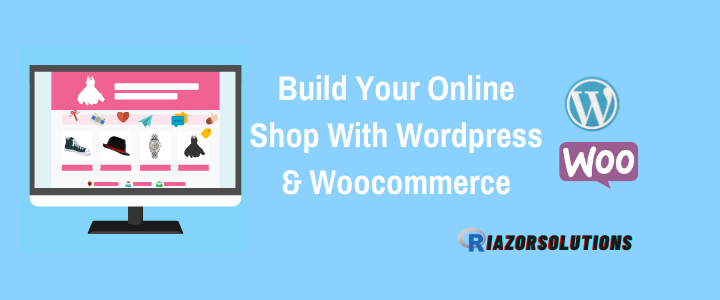 Here are some necessary steps to make your site live. We tried to make it simple as possible.
Step 1: Buy domain name
You must need your own domain to make your business online. Don't ever use free domain extensions.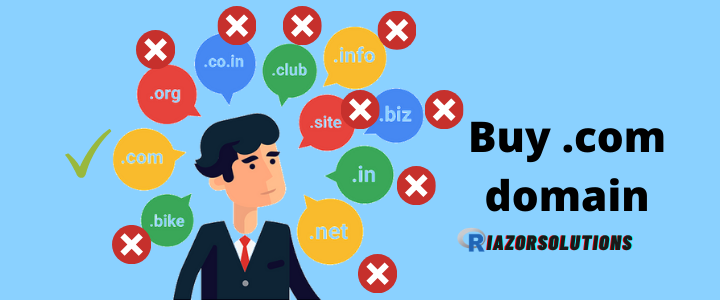 We recommend using .com domain extension for making it more trustable and easy to find. According to the searchmetrics reports, 75% of all websites in the US have a .com extension. It's what people assume your website will end with, even when it is not using this extension. So, don't be too creative with domain name, keep it memorable with .com extension.
Step 2: Buy a good hosting
We use Amazon web services (AWS) for amazing website speed, more control over the security and services, saleable and cost effective. It also gives free tier option for a year to get started. The free tier is good enough to handle the 100s of users at a time. But for your ease you can use other hosting like namecheap, godaddy, Hostinger, or any other hosting company with good reputation. You can use managed wordpress hosting for easier management.
Step 3: Connect Hosting & Install WordPress in your hosting
If you don't buy wordpress managed hosting services, you are also able to install wordpress in your hosting yourself. At first, connect your domain and hosting (Need Help? Contact us) then download latest wordpress zip file from: https://wordpress.org/download/ and upload it to your root folder usually inside public_html and extract the file there.
If your hosting supports script installation feature then you can easily install wordpress with one click. After installation login to your wp-admin from the
Step 3: Install SSL Certificate and Necessary Themes & Plugins
If you are willing to spend more on security and advance encryption, then you can purchase certificate but there are some sites which provide free SSL certificate to your site, which is good enough to make it more trust worthy.
Here are some of the sites where you can purchase SSL: https://www.ssl.com/
https://letsencrypt.org/
https://www.digicert.com/standard-ssl-certificates

But you can get free SSL from https://letsencrypt.org/ for lifetime. The downside of using free SSL are many but it's good to have one rather than not having SSL. Click here to read how to install free SSL certificate manually in Cpanel. If you need any help, Contact us.
After installing SSL certificate in your wordpress website, you need some important plugins to keep your website safe, fast & beautiful. But before you should choose an theme. Click here to get best free wordpress themes for business. Then install necessary / important plugins for your wordpress website. Click here to know important plugins you need for your wordpress website.
Step 4: Build a good design for business website
For good design in wordpress i recommend using elementor page builder. There are lots of customization that can be added using elementor. You can import demo you like and then customize it later.
Step 5: Register your site to Search console, Bing webmaster & google analytics
This is an important step to keep track of your website performance and to keep eye on the users behavior and interest. These tools will give idea how users are finding your website, your website position and keywords details.
Click here to read: How to Register site to Search console, Bing webmaster & Google analytics
Step 6: SEO and Marketing
This is the most important part to boost organic and paid traffic to the website, that can increase your sales & orders. Without marketing all the previous 5 steps are worthless. Your website / business remains unseen and lost somewhere in the internet.
That's why you may need us to help you. At riazorsolutions we do onpage & offpage optimizations with paid advertisements. We can promote your business by bringing targeted audience to your website.
Small Business
This package is optimized for those businesses who has less competition and small in the market. We provide very afford able rates to grow your small or family run business.
Medium Business
This package is for medium business who have fair competition and growing in the market. We will provide dedicated person to handle your business online. Be with us forget everything.
Large Business
This package is for large business who have high competition in the market. We will provide dedicated team to handle your business online. Be with us to grow more.